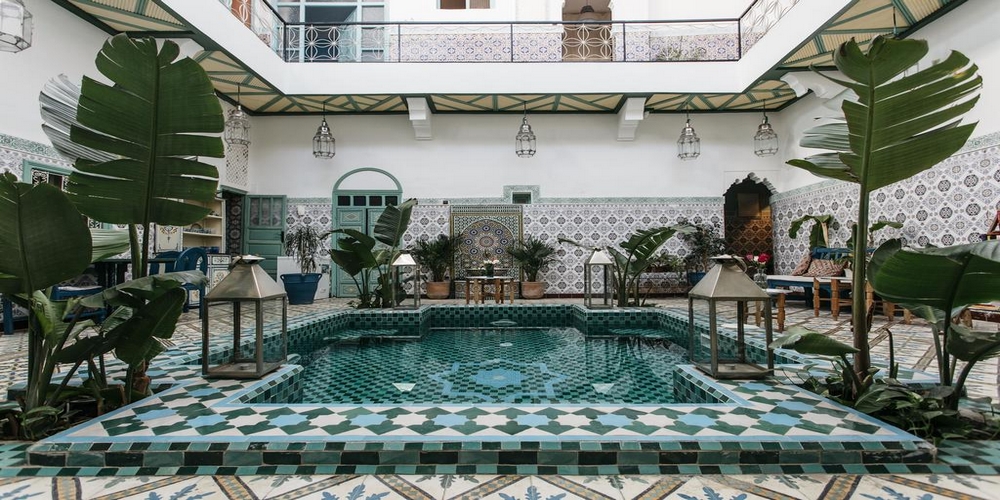 For a real Moroccan experience stay at one of the many beautiful and luxurious Riads in Marrakech. First, let me explain the difference between hotels and Riads in Marrakech. A hotel is a building that was most likely, built to be a hotel. It is as easy as that. Think of any local hotel in your hometown. However, Riads in Marrakech ooze magic, history, beauty, culture, and luxury.
The Riads are traditional Moroccan houses or palaces with an interior garden that have been converted to hold guests. Often they are found down hidden fabulously roads with unmarked doors. Riads create a shockingly quiet escape from the chaos of the streets. Usually, there are a limited number of rooms in the Riads as they were once homes. The larger are typically the old palaces.
There are literally hundreds of Riads in Marrakech! So how do you find the right Riad for you? Easy. Where you stay is determined by your budget, desired location, and amenities. If you are just looking to stay at one of the basic Riads in Marrakech, you will have many choices. Just be sure to read about the amenities offered as some are very minimal.
However, if your budget allows a little extra, you can create some amazing lasting memories at one of the luxurious and chic Riads. Many of the luxury Riads in Marrakech offer an on-site hammam (Moroccan spa) which is a must-do when in Marrakech! In other luxury Riads, you will find fabulously hidden courtyards, cushioned nooks and quiet places to read a great book or just relax.
We stayed in one of the most luxurious Riads where they offered the option to have breakfast, which was included in the room rate, in our room, in a cozy nook or poolside. Complimentary tea, wine, and snacks throughout the day. We also had the option to have a romantic private dinner in the Riad's library just adjacent to the courtyard where light-live music played nightly.
Other Riads boast Michelin rated restaurants, cool bar scenes and even cooler rooftop terraces that offer guests the opportunity to relax and gaze into the sky above in style.
The biggest mistake that you could make when choosing your accommodations in the Red City, is not choosing to stay in one of the historic, romantic and magical Riads in Marrakech.