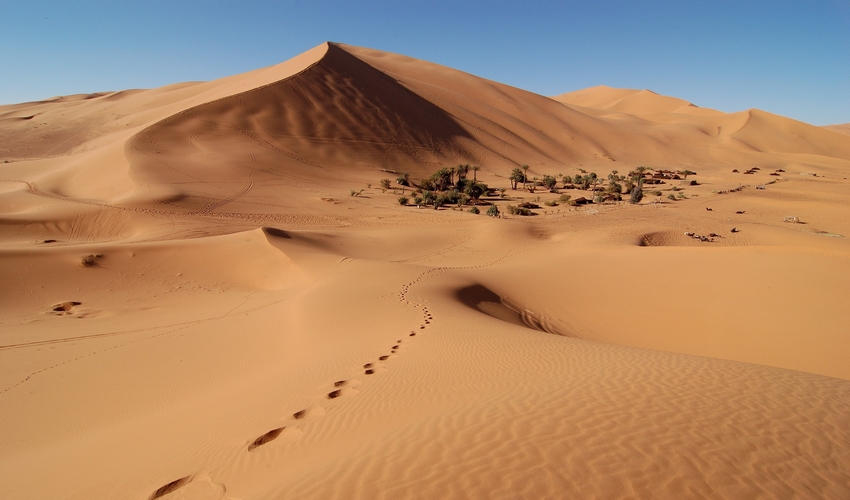 The city of Merzouga leads you directly to the Erg Chebbi, 50 km from the Algerian border. The Erg Chebbi is a beautiful and unforgettable group of orange ochre dunes. (An erg appears in a basin when the wadis transport fragments, which then form a grouping, and only the top of the dunes is modified by the wind.) Dunes and the sun magically intertwine in Chebbi erg, and the play of lights and shadows is one of the most gorgeous sights of the entire Sahara.
The enchanting display of colors and the magical atmosphere particularly at sunset is extraordinary. You may travel through the dunes by camel from Mergouza where guides are ready to lead you on a trek of several hours'. You may also choose to camp in the dunes with the nomads, under the arresting beauty of the starry desert sky.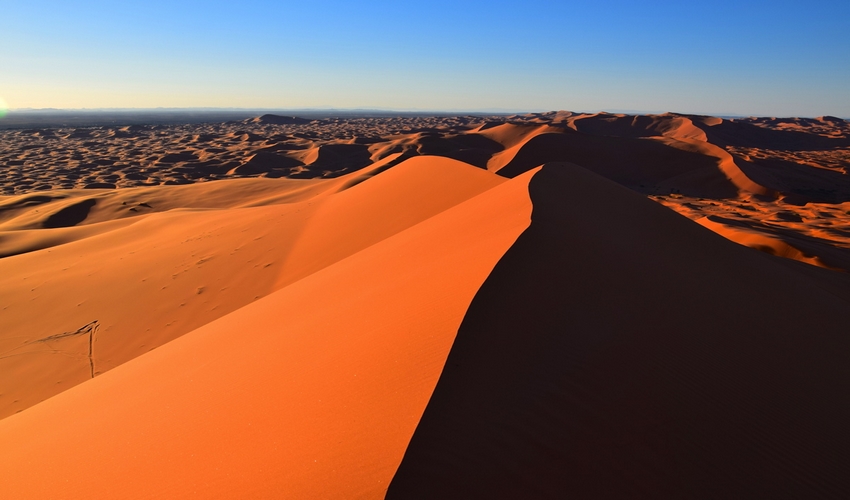 The Chebbi erg is 27 km long and 7 km wide. It is a true marvel of nature, with dunes that appear to spring from the ground and become monuments made of sand. From its majestic and ephemeral crests that are constantly impacted by the wind, the Sahara appears to be covered with a veil of mystery and unsurpassable grandeur. From whichever slope you stand upon, the imposing pillars of one of the desert plateaus mark the horizon.
Those who love vast expanses and the beauty of silence will be delighted with the majesty of the hypnotizing dunes. They are an ideal location for meditation and contemplation. If you are planning to go there during the summer, beware of the temperatures that can easily climb up to 50°C in July and August.