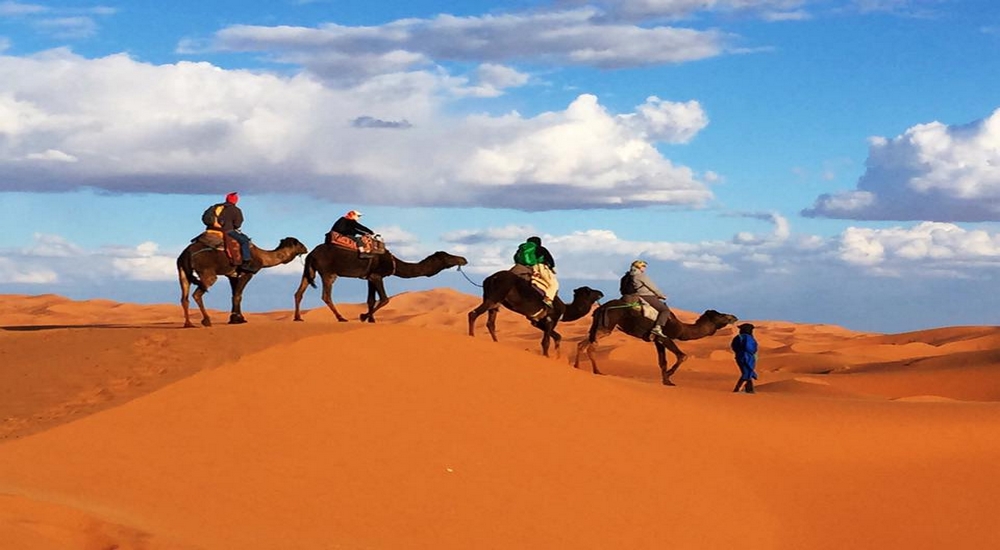 Imagine sitting on high of a camel, trekking through the desert a bit like the caravans of previous. Silence surrounds you as the only sound is that of the camels' cleft feet plodding along the soft sand. No matter where you look, endless stretches of sand confront you. Far from the stress of modern-day life, you enjoy the peace and tranquility of solitude. This is what camel trekking in the Sahara desert is about, and it is an excellent introduction to family adventure travel!
The Erg Chebbi dunes, near Merzouga, are the highest and most spectacular sand dunes in Morocco. Some 50 km southeast of Erfoud, a garrison town and an excellent base for desert travels, these golden-red dunes lie where the desert meets the Atlas Mountains. They mark the beginning of great travel experience, as well as the western boundary of the Moroccan Sahara, bordering on Algeria.
The desert landscape provides the backdrop for this not-to-be-missed travel adventure. The undiluted peace of the camels trekking along will take you back to caravans that traveled along these century-old routes, seeking a cool oasis. The brilliant blue of the sky above against the endless red dunes; the infinite vistas, the solitude and the silence of the desert create mysterious energizing powers. Sometimes, an oasis emerges; at other times, merely a mirage. Pass Berber villages where you'll get a glimpse of the simplicity of life – people drawing water from a well, collecting grass and dates, or simply tending to their crops. Crumbling Kasbahs (fortifications) dot the desert landscape while extraordinary rock formations mark the ground, guiding traders on their route.
With the changing afternoon light, the stark landscape colors shift from pale brown to gold, then to pink. As the sun sets, the growing shadows flirt with the stunning colors. After a weary day, you're glad to reach the campsite. The Berber tents, with their colorful pillows and bright rugs, offer a haven of relaxation. In the evening, enjoy a meal cooked under the open skies. As you sit by the campfire, the sometimes native drums resound in the far-off distance. Sleeping under the ink-black shy, you'll marvel at the array of glittering stars streaking the night sky. In the morning, rise early to catch a spectacular sunrise over the dunes before continuing on your trek
From the peaceful heart of the desert, the nut and date stops on the way, the Berber villages and Kasbahs, to the Berber camps, the tribal drums, the campfire, the races up the sand dunes and the shimmering stars in the indigo sky, the rest of the world seems a lifetime away from this morocco adventure travel.