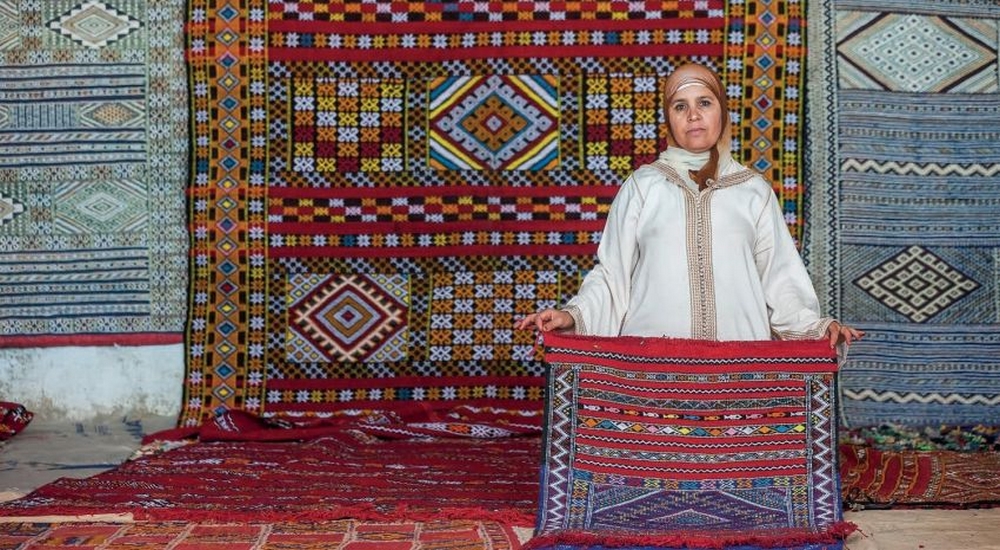 When you walk down the streets in Morocco, you will be greeted by rows and rows of colorful Berber carpets that hang on the old walls. Each of these beautiful masterpieces is all different, each with their own design and color.
High up in the Atlas Mountains there are many small Berber tribes. Each of these tribes has there own artists that make carpets. These carpets are formed by intricate knots that are tied by the skillful hands of the artists. Each artist has their own story that they want to tell through their carpets and it is shown in the colorful design. The symbols of the tribes are woven into the carpets, along with any other shape or color that the artist wants.
The carpets are made up of three basic textures as a result of the materials that are used to make them. The three textures are thick wool, thin wool and a mixture of the two. Each of these carpets has its own feel and atmosphere which makes the options limitless. The colors of these carpets are made from natural dyes such as Saffron, crushed rocks, and Kohl. A result of the chemical-free dyes, these carpets are not only beautiful to the eye but also very environmentally friendly.
The carpets designs have different patterns according to where they were made. Some carpets are brightly colored with reds, pinks, and yellows, and have a very busy design. Others are made of more soft colors such as brown, dark green, blue and maroon. As a result of the huge variety of colors, these carpets make home decorating a breeze. They always make a lovely touch to your home whether it is by making the walls colorful and vibrant from the hanging carpets, or from making a room cozy and warm from a thick woolen carpet on the ground.
The carpets come in all shapes and sizes. The largest size can cover a floor of a very large room and the smaller sizes can make a doormat or a bedroom carpet. Each of these carpets will vary in pricing as a result of the size, color, and age. If your carpet is large then it means that the time to make it will be well over a month so the cost will go up accordingly. As you well know, Saffron is worth its weight in gold so even if the carpet is small and it is dyed with Saffron then it will be more expensive. Finally, if the carpet is of more than 100 years of age it is considered an antique and its value will have increased.
The carpets of Morocco are both colorful and unique and will provide a lovely atmosphere to your home. If you are looking to take a trip to Morocco is sure to stop at the carpet shops and see for yourself the beauty of this art.