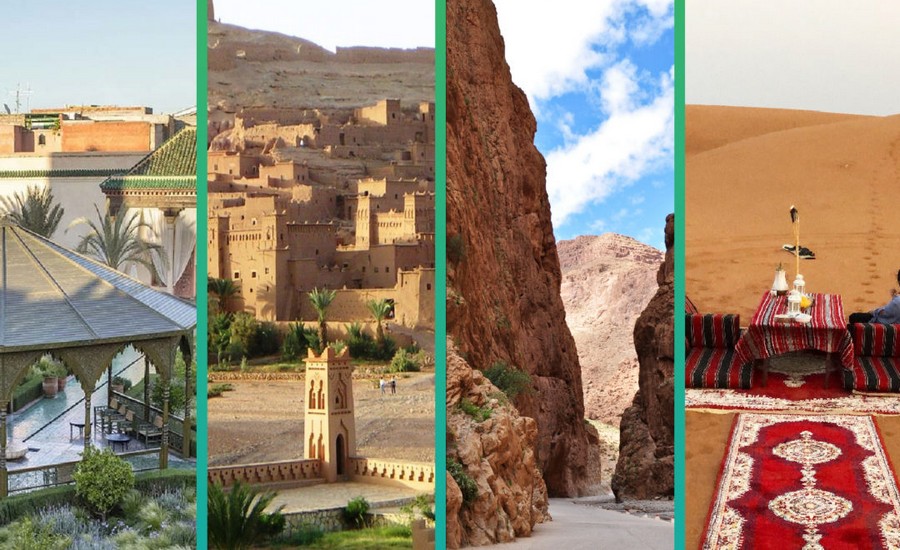 Top Morocco private tours take advantage of the country's amazing wealth of natural beauty, cultural charm, and historic attractions. Whether you are looking for a city break, a wild adventure, or beach-side bliss, Morocco tours can serve slices of the splendor that Morocco has to offer. Whether you travel independently and take one of the most popular circuits in Morocco on your own, or sign up for a guided tour, the best tours in Morocco all have one thing in common – they allow you to see for yourself what this magical country is all about.
The Best Tours in Morocco for an Authentic Moroccan Experience
For many, Morocco is all about its Imperial Cities: Rabat, Fez, Meknes, and Marrakesh. In each of these cities are plenty of wonderful tours which will allow you to discover the true, authentic Morocco, getting to know these places as locals see them rather than just sticking to major tourist attractions.
For others, however, the real Moroccan experience begins in the deep south. Tours in Southern Morocco will take you to an ancient place of fortified villages (ksour), crumbling kasbahs and sun-kissed oases basking in the desert heat. Enjoy a desert expedition, visit Ouarzazate, the gateway to the south, see the spectacular sand dunes of Erg Chebbi or go trekking and wildlife-spotting in the Dades Gorge or the Todra Gorge.
The Best Tours in Morocco for History & Culture
Historic and cultural tours abound in each of Morocco's main historic cities. Amongst the most enthralling of Morocco's cities for a tour is the city of Marrakesh, with its maze-like medieval quarter and souks. Fes also has a magical medina to explore and is an ideal tour destination for those who enjoy soaking up the historical atmosphere. Another option is the capital, Rabat, with its iconic French colonial landmarks and Berber era fort.
Here too, many great tour options will take you to the major sites and attractions. To the south, camel treks and other tours will take you deep into the desserts to visit Berber villages and oases. Mule treks and other tours into the Atlas mountains will allow visitors to see the traditional way of life in mountain villages. Both of these tour options will give you more tastes of Morocco's rich history and culture.
The Best Tours in Morocco for Adrenaline Junkies
If you wish, Morocco can be a relaxing vacation destination – a place to lounge on the beach or relax in a shaded riad courtyard in one of the historic settlements. But there are also plenty of opportunities for a real, active adventure.
Some of the best tour options for those who enjoy a more active and exhilarating adventure include desert safaris in a 4WD or on a camel deep into the heart of the desert, with overnight camping options for the more adventurous. The Atlas Mountains have also long attracted adrenaline junkies, who come to hike to the summits and enjoy stunning, challenging mountain trails. Mountain biking in Jebel Saghro is another popular choice – hairpin bends, steep descents, and white-knuckle rides await throughout the area of flat-topped mesas and rugged gorges.