Saidia The Blue Pearl of Morocco
Conveniently located on the Algerian border about 20 miles from Berkane and sixty miles from the Oujda International Airport, is a beautiful Moroccan resort famous for its long sandy beaches bordering the Mediterranean. Nearly 200,000 tourists visit each year to enjoy its splendid 14 km, beach, the longest of Morocco, kissed by the sun, and surrounded by a beautiful eucalyptus forest that extends over 560 hectares.
Saidia was originally a Kasbah built in the late nineteenth century by Sultan Hassan I to control the border with Algeria, a French colony. During this time Saidia came under the French protectorate and attracted settlers who transformed it into a luxurious resort location. Since then it has continued to grow with the recent creation of the Mediterrania-Saida, a residential neighborhood offering all the comforts of a modern resort. It features an international clientele with gracious villas and luxury apartments equipped with terraces and solariums overlooking breathtaking incredibly lush greenery.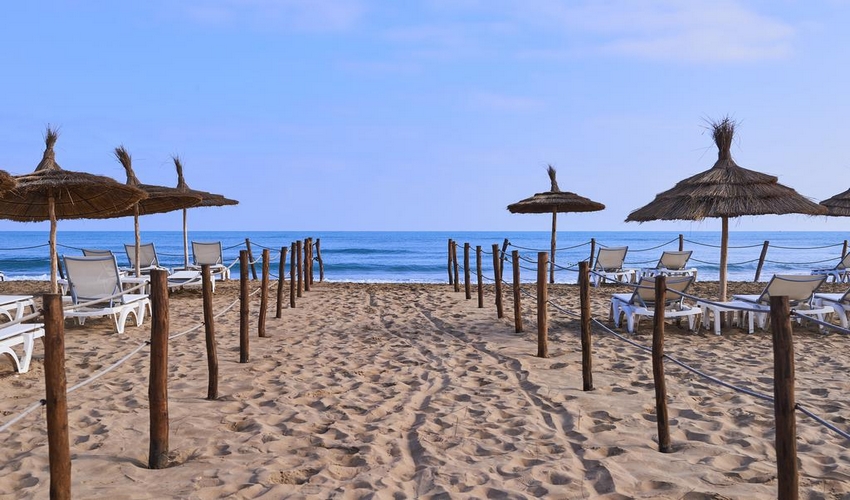 Saidia, One of The Most Important Mediterranean Marinas
Besides many accommodations for visitors, Saidia also features a marina with facilities to accommodate luxury yachts and smaller sailboats. The capacity to moor over 840 boats makes Saidia one of the most significant marinas in the Mediterranean. Anglers can indulge their passion on the magnificent south coast of the Mediterranean which features a stunning variety of fish. Golfers will enjoy three impressive 18 hole courses in beautiful and luxurious settings. Saidia is also a perfect location for water sports: windsurfing, kite surfing, diving, cruising and discovering the rich and varied fauna and flora on the islands near Chafarina. Many fantastic restaurants, shopping areas, a spa, a medical center, and expertly planned parks complement the rich and eclectic beauty of Saidia.
The charm of the medina of Saidia and its surroundings
The Medina is decorated with antique doors that are typical of many buildings and palaces. in this historically rich area.  A leisurely stroll through narrow streets in the heart of the city offers unique and fascinating scenery. The Medina center houses approximately 150 luxury brand items for your shopping pleasure.  A souk is open every Sunday offering magnificent fabrics, clothing, fantastic jewelry, leatherwork, and delicious and exotic fruits that are grown in the surrounding countryside.
Close to Saidia, do not miss the bird sanctuary at the mouth of the Moulouya a spectacular river where many species thrive, or, visit the magnificent gorges and caves Zegzel and "Camel".  Journey to nearby Oujda, an ancient and magnificent city, with its gardens, medina, and a palace or take a trek to Berkane a city that boasts a long and colorful history shared with the Romans, Barbarians and Arab dynasties, Be sure to spend some time on a visit to the small fishing port of Ras El Ma.  For a unique and exciting travel opportunity don't forget a visit during the first fortnight of August a wonderful time to attend numerous cultural events, sports, and artistic venues when Saidia is particularly lively with the Gharnata music festival and Folk Art festivals.
Over the years, Saidia has become an international standard tourist destination thanks to its dream location, its unspoiled topography; it's long and sandy beaches, modern facilities, and the rich and diverse culture of fascinating and majestic northeastern Morocco.