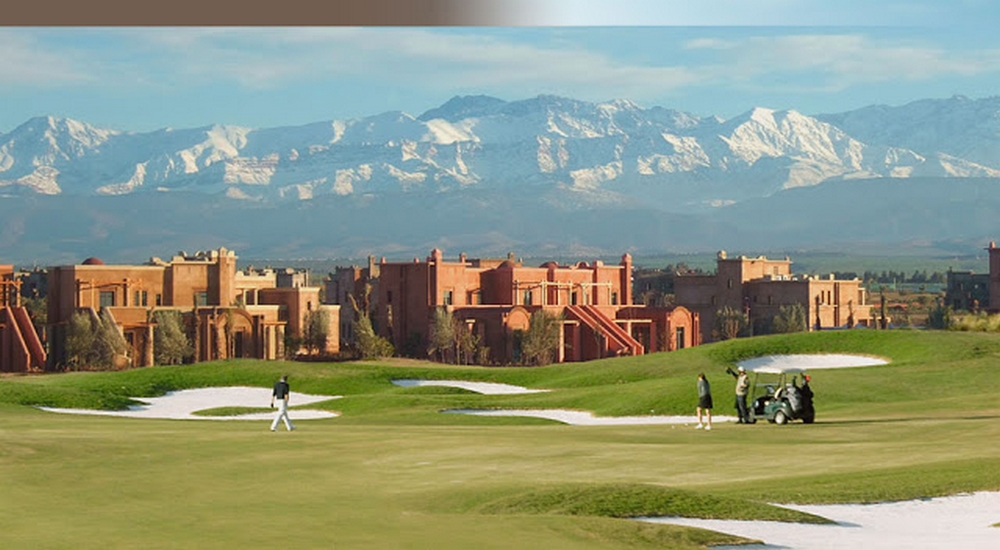 Marrakech is a vibrant and charming city at the foot of the majestic Atlas Mountains and based around an ancient oasis. With 333 days of sunshine per year and very easy access from northern Europe, it offers something for everyone and isalreadycompetingalongsidemainstayEuropeancities in the high earning sector of weekend breaks. Veryhighoccupancylevels in an already established tourist destination is attractive from an investment perspective and the year-round sunshine, amazing culture, golf, mountains, gardens, restaurants, and nightlife also make the lifestyle opportunity too good to miss.
It is the combination of the excellent weather and water from the Atlas Mountainsthatmakes Marrakech such a fantastic location for golf. Despite its proximity to one of the largest deserts in the world (Sahara), the water table is high and Marrakech is surprisingly verdant, something that can surprise new visitors who often expect a dusty and dirty city. Nothingcouldbefurtherfrom the truth; in fact, Marrakech boasts an amazing number of beautiful gardens, parks, promenades, and public spaces. Just taking the short 5-minute journey from the airport to the upmarket hotel district (Hivernage) will take you past the MenaraGardens (ancient Olive Groveswith a stunning central water feature), along several wide boulevards (all with well-tended verges and sidewalks) and past many gardens bursting with color and life.
There are currently 5 golf courses playable in Marrakech with a further 7 having been granted licenses. This number was not plucked out of thin air but a detailed study was commissioned into the demand for such golfing facilities, their water consumption, and the area's ability to deal with this comfortably. 12 may seem high but not when you consider the Algarve alone has over 50 golf courses.
3 of the courses have been around for a while. Firstly the Royal Golf Club was built in the 1920s by the late pasha of Marrakech and was a favorite of the late King Hassan II and Winston Churchill. It is based in a stunning forest of palm trees and has been maintained to the highest standards as you would expect for something with the royal seal of approval. It was recently rated as the 3rd best course in the whole of Morocco by Golf Digest Magazine and has 18 holes, is part 72 and 6,120m.
The Amelkis Golf Club is the next oldest course you should play when visiting Marrakech. It has 36 holes, both par 72 and around 6,500m and is located directly opposite the Royal Golf Club so you could easily play both in the same day. Amelkiswasdesigned by Cabell Robinson and it boasts fabulous views of the snow-covered Atlas from some fairways and despite being an open course, the landscape is varied and there are plenty of hazards along the way. Recently rated in the top 10 Moroccan courses by Golf Digest Magazine it is considered to be the most challenging golf course in Marrakech and has welcomed the Morocco Open in 2000 and the Hugo Boss tournament 2006.
Located in the center of Amelkis golf course and built around an artificial lake, the Amenjenahotelis a true palace. The property echoes both the Berber villages of the High Atlas Mountains and the elegance of a Sultan's palace. Often visited by celebrities and sports personalities it will leave you speechless.
The third well-established course is the Palmeraie Golf Club (18 holes, par 72, 6,214m) that is about 15 minutes northeast from the center of the city and 30 minutes from the airport. It is based on the Palmeraie Oasis and like all other courses here is stunning and beautifully maintained. It wasbuiltin 1992 and designed by Robert Trent Jones Snrso has an American style. It is based on a natural valley and boasts 7 lakes, 1,000 of palm trees and numerous and hazards. The clubhouse is majestic and Golf Digest Magazine recently rated the course ninth in Morocco.
Beyond this is a new wave of designer courses now being delivered to meet demand. Top of the list and without a doubt, the most important new course in NorthAfricais the Samanah Country Club – a deluxe new leisurecommunitywith 5 stars + facilities. The golf course hereiscomplete (18 holes, par 72, 6,786m) has been designed by Jack Nicklaus and boasts impressive environmentalcredentials. Membershipisonlycurrentlyavailable to hotel guests and property owners (whose tenants will then be able to use the course at very preferential rates throughout the year).
With club membership-completely private, buying here is a very sound investment. Phase 1 is now completing and is absolutely stunning – that includes most commercial services, an enormous and breathtaking clubhouse, the unique golf course, stunning market square, a deluxe hotel, and around 300 villas. There will be 650 residents on 285 hectares (only 5% density) and phase 2 of the community is located discreetly away from the main areas. For your comfort, there is a comprehensive range of fantastic services.
* Three luxury 5 star + hotels. Part of the leading hotels of the World Group
* Stunningmarket square &beautiful water features
* Top brand restaurants, spa, services & shops
* Optionalrental management and services
* In-house catering, chauffeurs &maid services
* Stunning year-round views of the Atlas
* Private golf and tennis club
* 8 minutes to the airport, 15 minutes to Medina
* 40 minutes to the ski resorts
Most properties on Samanah are fabulous deluxe villas (450 villas with prices from 500,000 – 2,500,000 EUR), but there are also some semi-detached villas (from 395k EUR – only 10 left from 100 in April 2010) and a few villa apartments for sale (from 125 – 215k EUR). Apartments are large and designed so that the living room can be used as an extra bedroom (sofa bed) with a separate shower room and guest W/C. For more information contact an official agent like Elite SamanahProperties.
The property price includes 20% VAT, pool, comprehensive garden landscaping, garage/private parking, kitchen (no appliances), fixtures and fittings. A luxury furniture pack is an optional extra and can be provided by an award-winning interior design company. Golf playing rights are also an optional extra (from 24 – 36k EUR for the life of the property). If buying off-plan you can choose bespoke interior design packages whereSamanahwill change property layouts, add additional features (basements/lifts/larger pools), etc and mortgages are available through a leadingMoroccanbank for up to 70%.
In addition to the Samanah Country Club, the following new golf and leisure-communities will all be delivered in Marrakech over the next 1 – 5 years with several more in the planning stages. Golf property is available off-plan around all of the courses and could make a sound investment if you are persuaded about the future of Marrakech as a golfing destination.