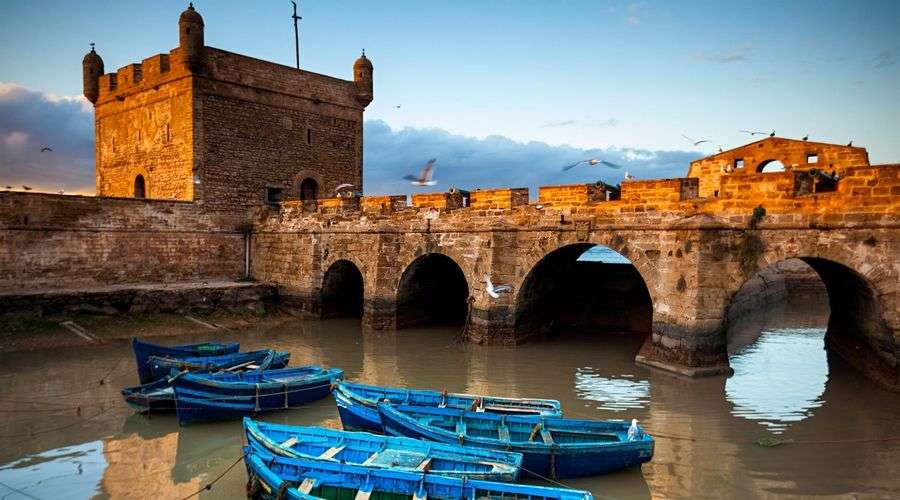 Situated on the shores of the Atlantic Ocean, Essaouira is the gateway to the deep south of Morocco renowned for the hospitality of its inhabitants, the mildness of its climate and its superb architecture. Its perpetual and gentle winds continue to attract the attention of water sports enthusiasts from around the world.
Essaouira is an ancient historical city, founded in the 7th century BC, and has been inhabited by the Phoenicians, Berbers, and Romans. In the 15th century under the rule of the Portuguese, it became an important trading post.  The city was then named Mogador a name it retains to this day.
In 1764, Sultan Sidi Mohamed Ben Abdallah undertook the construction of a new harbor for European trade. A Frenchman, Théodore Carnut, was then commissioned to draw the plans of the city, using the fortified town of Saint-Malo, in France, as a model. Thus, Essaouira is one of the few cities around the world, which was completely planned before its construction, which gave it the name of Es Saouira, the Well Drawn. The city later played an integral role as an international trade port with the rest of the world until the early 20thcentury.
The city will completely amaze you with its stunning architectural features, and multi-faceted cultural influences. It is home to an incredible convergence of many cultures united in peace and facing the inspirational influence of the ocean.
Since 2001, UNESCO has listed the Medina of Essaouira as a World Heritage Travel Site.  The Medina, in the heart of Essaouira, is an eloquent testimony to its glorious past. Its quiet and tourist-free ambiance is a delight. Discover the artistry of magnificent and intricately decorated Mogadorian jewelry. The thuja wood parquetry created by the Souris artisans is a true art form and the area is famous for its production of argan oil and beautiful pottery.
The "new city" built on the shore of the ocean is where you will find hotels and riads and is known as the Moroccan capital of water sports. The City of Wind or City of Trade Winds is a favorite destination for aficionados of wind and kite surfing and anglers can enjoy fishing in the nearby reserves. Be sure to attend the international festival of Guenaouas, one of the most popular festivals in Morocco.