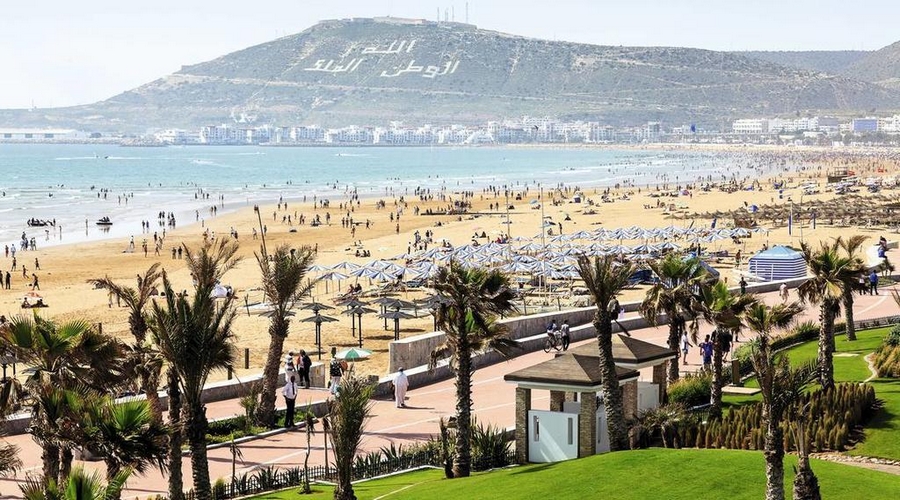 Agadir is known for its fabulous bay. A breathtaking 8 km long sandy beach that stretches for as long as your eyes can see. And what makes Agadir holidays a real treat for sun seekers and water sports enthusiasts is that the city has some of the finest tourist infrastructures and facilities in Morocco.
In fact, along with the beach, top choice hotel complexes are available with sun loungers and parasols. If you're the type who prefer being alone or who wants to hang out in a less touristy spot on the beach, then rest assured, you can always find a quiet spot on the 8 km coastline of the Agadir Bay.
Agadir is also known for its yearlong warm weather. In fact, whether you are looking for a destination for your summer holidays or you want to escape from the gruesome cold of winter month in Europe or Northern America, then booking your Agadir holidays will be a good idea.
The thing is, between the months of May and October, the city is warm with high temperatures averaging 26 degrees C. On some occasion when the hot wind is blowing from the southern Sahara desert, the temperature can be substantially higher.
In the winter months, the average high temperature rarely falls below 20 and the sun levels remain acceptable to allow for sunbathing during the middle of the day.
Besides the beauty of its beach and the quality of its hotels, the city has also all sorts of facilities and infrastructures to guarantee you'll have maximum fun during your Agadir holidays. The city has three good quality golf courses and many tennis courts. It has also a marina that can receive a few hundred pleasure boats.
Agadir is not the place you want to visit if you want to do cultural tourism or to discover the natural and cultural aspect of Morocco or of the local Berber region. The reason is that the city has been completely rebuilt after the 1961 earthquake and it seems that it has been exclusively built to be a top-notch tourist destination.
But, if you want to discover the natural and cultural aspects of the real Morocco during your Agadir Holidays, then the good news is that the city is ideally located to be a starting point to visit many neighboring natural beauty spots and historic towns.
So if you want to discover the beauty of the neighboring Anti-Atlas regions and immerse yourself in the local Berber culture, then there are many daytime trips that you can book with one of the local tour operators. You can contact us here.
The list of destination you may want to visit during your Agadir holidays includes the Massa lagoon, Tiznit, Tafraout, and Taroudant.