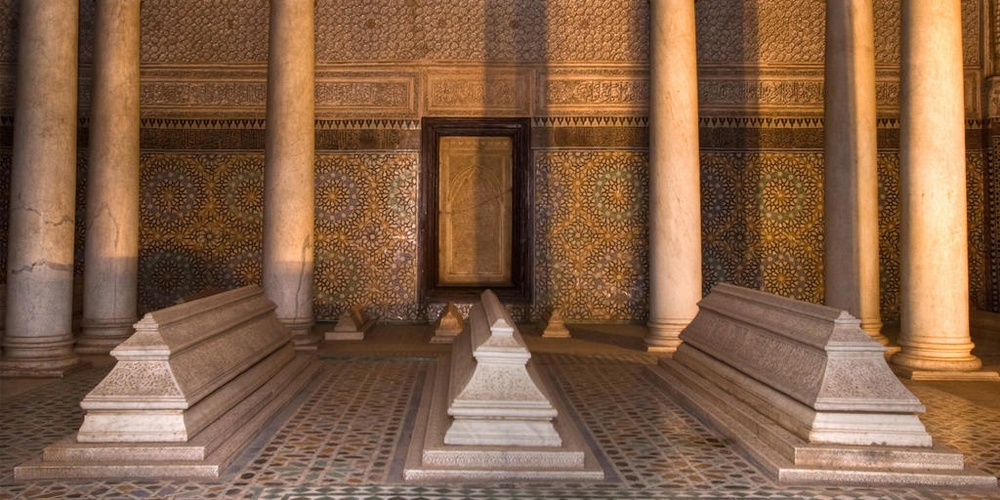 The stunning and glorious Saadian Tombs are located in the north of the Almohad Kasbah of Marrakech. A funerary boat was discovered in 1917 by the Department of Fine Arts on the site, as well as several historical buildings. In the past, visitors were forced to access these tombs through a door located next to the mosque, which was built by the Almohad Sultan Yacoub El Mansour. But now, access is possible through a corridor in the South-Eastern corner, which leads to property inside the cemetery where there is a large square surrounded by several rooms and bounded on the South and East sides by an internal wall supported with towers.
The first idea of building this cemetery was the Sultan Moulay Abdellah's, around 1557, to house the tomb of Sheikh Mohammed, the founder of the Saadian dynasty. He also built his son's Dome, where he would be buried in 1574. After that, the Sultan Ahmad al-Mansur (1578-1603) expanded and decorated the tombs where he was buried, together with his father and his mother, Lalla Masuda, and his brother, in addition to many members of the royal Saadian family.
The first building consists of three rooms: one is a prayer hall consisting of three rooms with several graves dating back to the 18th century. The mihrab is a niche with a five-angle arch, broken and out of line, which rests on four columns of different types of marble and covered by a dome with stalactites.
The second is known as the Central Hall and has twelve stunning columns, and it is one of the most beautiful wings of the first group. The room is divided into four groups with three columns of marble each, and this "Karar" is covered by a dome with a carved wooden ceiling and decorated with muqarnas along the lines of the eastern wing. The highest place in this chamber is the tomb of Sultan Ahmad al-Mansur and, next to it, the tomb of his son Zidane, followed by several graves of some of his successors.
On the surface of two of the four existing tombs inside, you can read inscriptions commemorating the Sultan Abdullah and his father, the sovereign Sheikh Mohammed.
The second group is a dome for Lalla Massouda, and her grave is the first stone grave of this compound. This was the last expansion, done during the reign of Ahmed Mansour, which was added to the Southern side a large hall covered by a roof of Aerar, and its decoration was not completed. This hall includes two balconies.
The sculpture, zellige, ceramics and all other decorations that were engraved on wood refer to the former artistic creations of Morocco, mostly Andalusian, especially those belonging to the Nasrid period.
In short, the Saadian Tombs are another stunning example of the incredible historic and architectural heritage in the Kasbah of Marrakech.