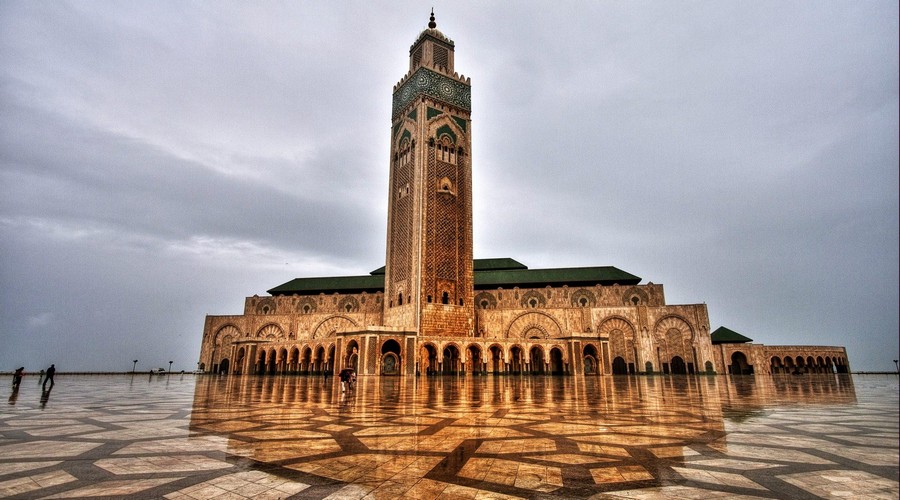 Casablanca, Morocco, is a metropolis with historic roots that create a diverse cityscape, and it is also where a lot of the money to support the entire country comes from. A myriad of industries, art galleries, fashion designers and rapid expansion draws many to the city, but tourists will be most interest in the cultural and historical aspects of Casablanca.
Even if you only have 24 hours to explore Casablanca, you will have plenty of time to see some of the more important sites.
Consider starting with breakfast at Paul, which is a French bakery. This restaurant is located in Villa Zevaco, where art deco architecture is the norm. There is always a constant flow of people in the villa, and locals consider it one of the trendiest places to hang out.
After a bit of breakfast, head to Hassan II Mosque. The mosque is not the oldest in the country, as it was only constructed in the 1980s, but it is picturesque nonetheless. The building has French architecture and rises up from the ocean on a rocky outcropping that looks like a throne. It is the third largest mosque in the world with 25,000 worshipers cramming inside in a single day; there are 80,000 worshipers if you count those in the courtyard and squares.
After a walk around the mosque, you might be ready for lunch. If that is the case, consider taking a ride to Rick's Cafe. For some, visiting Casablanca is about remembering the Hollywood film, Casablanca. This cafe was inspired by the film; stop by on Sunday to enjoy a live jazz session.
In the afternoon, burn off the lunchtime calories with a walking tour of the city. This allows you to explore most of the historic and popular sites in Casablanca, including Quartier Habous. This quarter is stuffed with shopping, food and other delights, all based on the French-Moroccan culture. This Medina was built in the 1930s as an experiment to mix the two cultures in one place. It has been highly successful and continues to draw visitors interested in both handmade and commercial goods.
You have many options for dinner. One particularly memorable dining establishment is the cliff top restaurant A Ma Bretagne, a favorite among local residents, which serves modern food and a fresh selection of seafood.
Once the sun sets, consider hitting up Boulevard de la Corniche, which is full of nightclubs and bars. This area is a particularly popular destination for the hip, younger crowd in Morocco.
While many who travel to Casablanca use it as a jumping off point to visit other regions of Morocco, such as the High Atlas Mountains, after spending some time in the city, you, too, will likely agree that it is worth setting aside time during your Morocco Tailor Made Trip to explore some of the sites that make this Moroccan city one to visit.