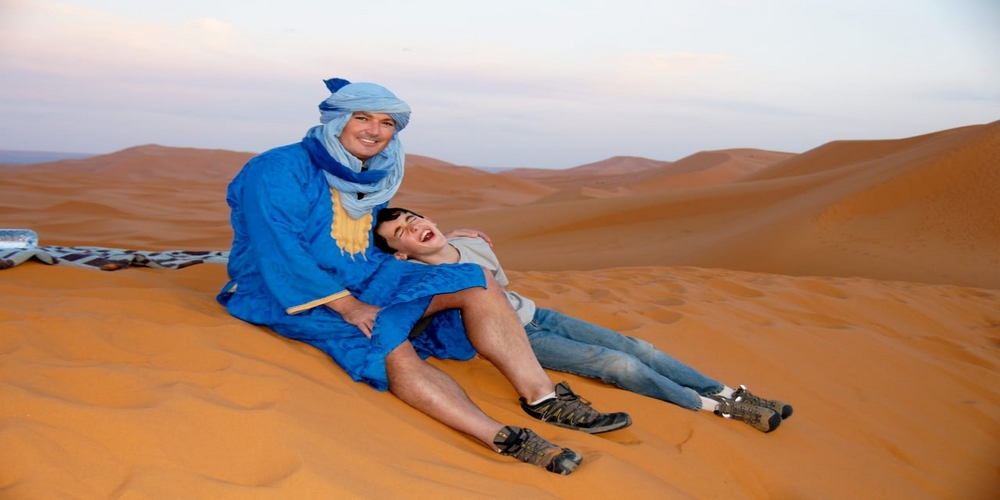 While traveling to Morocco, many people want to know what places they should go with their family. Morocco is a great place for kids and holds lots of fun places to see for both parents and children.
1) One of the most kid-friendly places to travel in Morocco is Fes. Fes is one of the older cities in Morocco and has a very large medina that is full of fun smells and brightly colored carpets that line the narrow streets. Shops are packed along the edges of the main streets and the friendly shop owners will be waving as you go by. The medina is a large city that is full of streets that twist their way through the city. If you were to go on a tour, the guide would take you and your children down in the medina and show you the weavers that make bright scarves and bed covers. There, the owners will show you how to tie the scarves in the different fashions of Morocco. If your kids would like, they could be the charming models.
Then the guide would take you to the spice shop where, especially if you have girls, your family will be dying of laughter and will enjoy the fun smells and traditional Arab cures. After some time along the tour, you will visit the well-known tanneries. While holding fresh mint up to your nose, you and your family will see how the famous Moroccan leather is made and dyed. Also on your tour, you will be able to go into the many carpet shops, brass shops, and pottery shops where you and your children will be treated with care. It has been seen many times that the children are given a small gift for coming.
2) Another amazing place to go while traveling in Morocco is the Sahara Desert. This is a favorite place to visit all children from age 3 to 18! You and your family will be taken out on an adventurous ride by 4×4. You will ride across no- man's land to a Kasbah (walled hotel) and be taken into your rooms that are equipped with air-conditioning. In most Kasbahs there are pools, and since it is always swimming weather in the desert, it is a lot of fun. When you arrive at the Kasbah, you will have seen the huge golden dunes in the distance but have no idea how close you really are. After you are settled in, you will walk out into the lobby and realize that right out the back door are the dunes.
The dunes are a very kid-friendly place as there are so many things to do. If your child is young they can roll down the soft sand. If they are older then they surely will enjoy sand boarding down the dunes or doing crazy stunts off the side of the dunes as it is hard to get hurt in the sand. Great family activity is the camel trek, which is when you and your family ride the camels out to a desert oasis. There you will enjoy a night in Berber tents under the desert stars. To your right will be the biggest dune in the Sahara, which you can choose to tackle, or not.
Morocco is a wonderful place to travel and there are many more places that you could go. All of these will leave you with memories to last a lifetime!