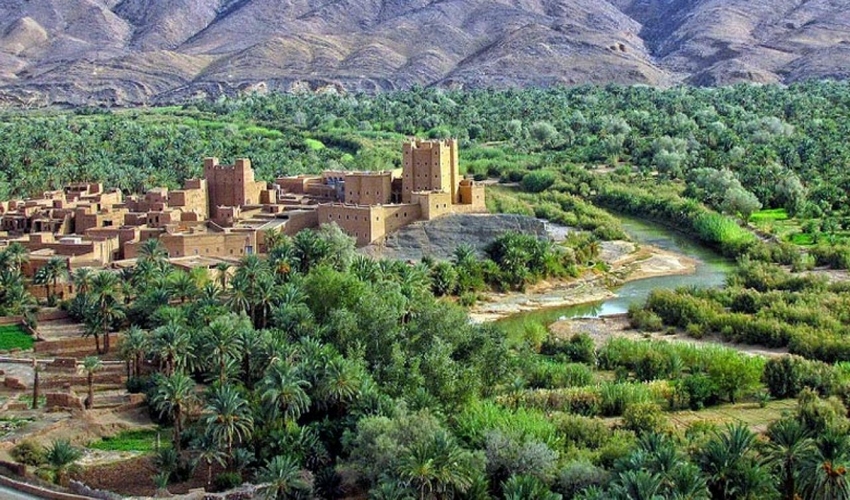 Errachidia, home to 45,000 inhabitants is one of Morocco's most ancient and famous cities. It is located in the Southeast of Morocco in the Ziz valley of the pre-Saharan region of Tafilalet between the High Atlas Mountains and the sandhills of the desert, in a rock-strewn and stony landscape. The city is less visited than other Moroccan cities and continues to retain its unique heritage and customs. Behind the imposing walls are many date palms and the beautiful red colors of the occasionally snowy mountains provide a brilliant contrast to the golden sand of the desert.
Although close to the less populous Saharan area, you will find everything that you would expect in a big city. Enjoy the comfortable and inviting hotels and the Kasbahs before traveling further into Southeastern Morocco.
Errachidia has a typical desert climate. Winters are cold with extreme temperature variations between the night and day. An optimum time to visit is either spring or autumn where you will experience the most moderate temperatures. Summer is very hot; however, summer evenings are cool and very pleasant.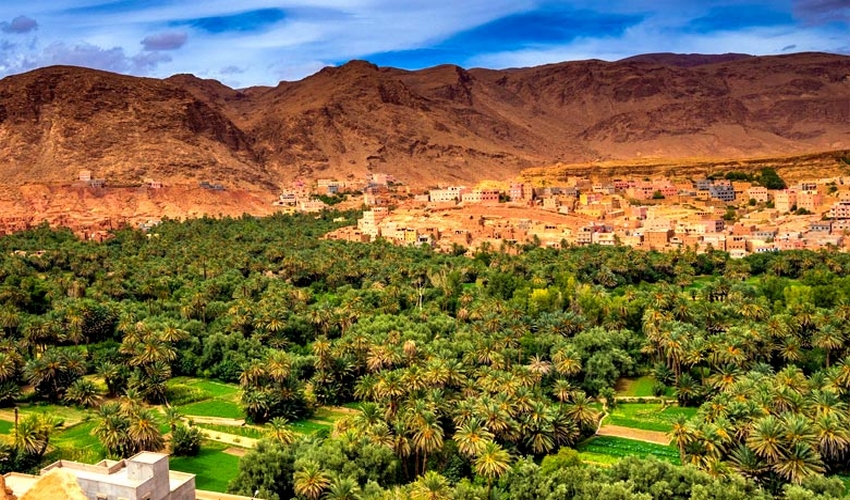 The lovely solitude of days spent under the dazzling sun is quite a contrast to the liveliness of the vibrant atmosphere that you will encounter in the evening. Men, women, and children gather at the "rond point" (roundabout), the meeting place of city inhabitants, where the garden is sheltered by the refreshing shades of the date palms.
The blue source of Meski is 28 kilometers from Errachidia and can be easily reached. This source of cold water comes directly from the mountains and flows into a basin where you can enjoy a wonderful swim and enjoy a respite from the heat.
From Errachidia, you can depart for many excursions toward the more traditional aspects of Morocco. The small town of Rich is 60 kilometers north of Errachidia, and Erfoud is 70 km to the south. These two towns differ dramatically from Errachidia. Here you will experience a place nearly frozen in time as you encounter people with their donkeys', mules, and horses leading a much simpler life.