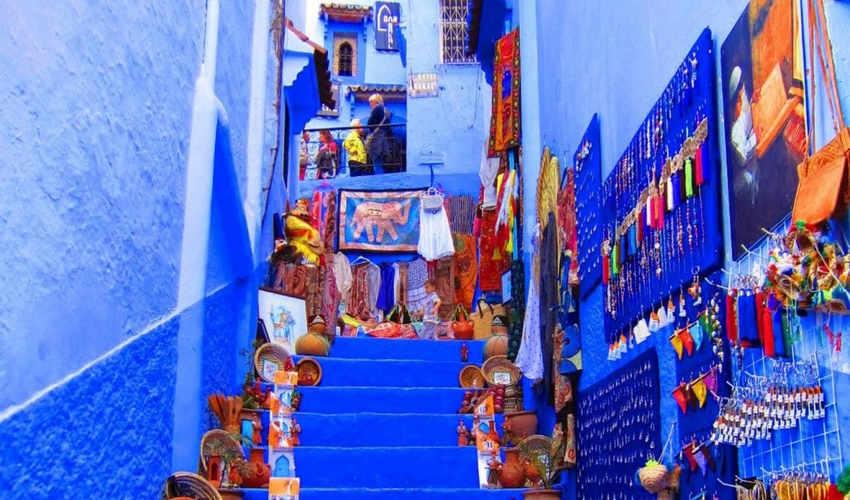 Located in the Rif's massif in northern Morocco, Chefchaouen is the chief town of the province of the same name noted for its beautiful buildings of glorious shades of blue.  This capital city bordering the Mediterranean sits at the foot of the rocky peaks of the Kelaa and Meggou mountains at an altitude of 600 meters. Founded in 1471 as a small fortress, which is still in existence today, it perfectly reflects the Arabo-Andalusian architecture frequently found in the north of Morocco that lends the town a charming and picturesque atmosphere. Chefchaouen experiences typical Mediterranean weather – rainy and chilly during the winter, mild and dry in the summer. This lovely town features sandy 120 kilometers beaches, large forests, and magnificent mountains.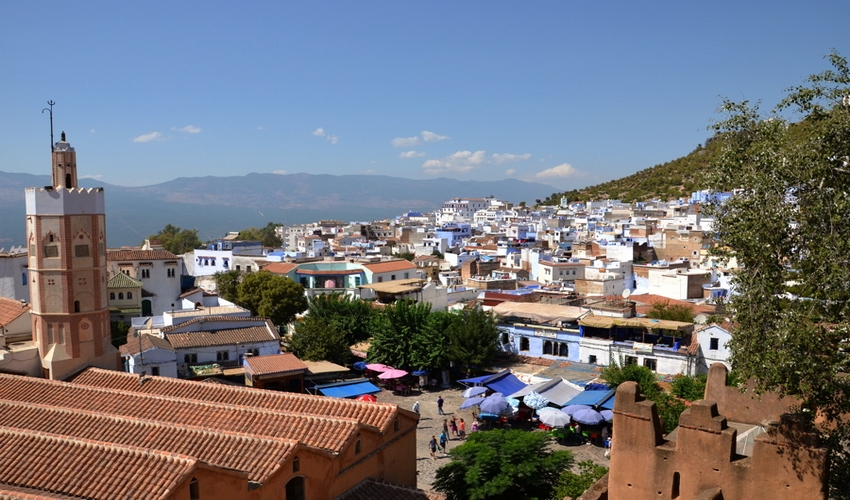 Chefchaouen, surrounded by ancient fortress-like walls, is a delightful city to visit. It can be accessed through one of its seven magnificent gates. You will fall in love with its steep alleyways paved with polished pebbles, narrow vaulted passages, and its white or azure houses with their blue shutters, ochre tiles, and iron forged gates. Follow the winding stairs that abound in the city or climb to the town square and discover the Kasbah and the Jamaa El-Kebir and its octagonal minaret. In the Outa Hammam Square, marvelous cafés and shops abound. Be sure to visit the Museum of the Kasaba and the Andalusian Research and Study Center where you will learn the fascinating history of the country and its people.
Do not leave the city without visiting the beautiful source of the Ras el Maa, the forest of Talassemtane, the cascades, the Mosque of Cherafat, the cave of Toughoubit, and the Pont de Dieu (The Bridge of God) at Akchour.  Or relax on one of the many peaceful Mediterranean beaches.
You will treasure beautiful memories of this charming, small sky blue city for a lifetime.