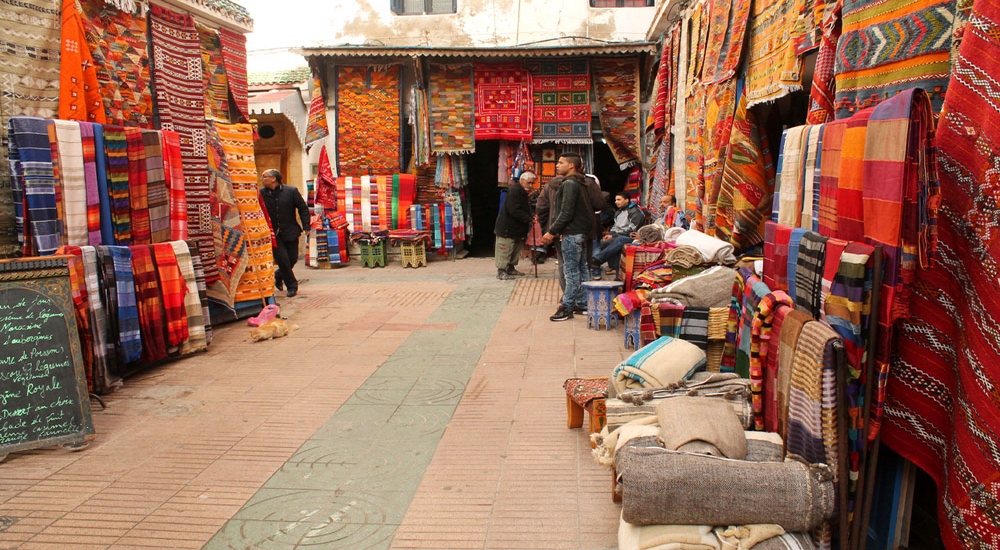 Spending your holiday in Morocco will provide you with the kind of experience simply not available closer to home. With its unique architecture, lively towns and beautiful surroundings, visiting Morocco offer an opportunity for exploration and discovery which should not be missed. Morocco is a country strewn with special and inspiring cities and natural wonders.
Marrakech is one of the most celebrated market towns in the world and unlike any other in terms of its vibrant nature and exciting atmosphere. Identified as souks, these notoriously active shopping centers specialize in everything from handcrafted carpets and clothing to traditional makeup products and natural treatments.
Marrakech's many souks are hives of activity and constantly packed with buyers and sellers. They are also a great way to refine your bartering techniques, and well worth a visit even if bargain hunting is not high on your list of things to do in Morocco.
Elsewhere in the city, Djeema el Fna – the largest square in Africa – plays host to thrilling entertainment on a daily basis, offering performances from the likes of musicians, acrobats, and snake-charmers, as well as countless food stalls and cafes. During your visit, you will also be able to take in some of the many other sights that Marrakech has to offer, such as its ancient architecture and the world-famous Saadian Tombs.
If you decide after this that you need a break from the frantic pace of life that Morocco's hectic cities bring, you will not have to look far to find alternative activities. With much of the country located within the borders of the sprawling Saharan desert, there is no shortage of opportunities to brave the elements and embark on camping trips, long desert drives, and even Moroccan Sahara Camel Trek.
It may not offer the comforts of a five-star hotel, but making your way through the historic Draa Valley with the aid of just the camels, their drivers, and your friends or family is a truly unique experience and one you are sure to enjoy. Crossing a stunning landscape of rivers, mountains and sand dunes, the camel treks allow you and your party to take in Morocco's diverse and extraordinary scenery in the most traditional of ways.
If this hasn't whet your appetite enough, then there is plenty of further information available on the wonderful destination that is Morocco, but if I were you, I would stop reading and get packing for the adventure of a lifetime.