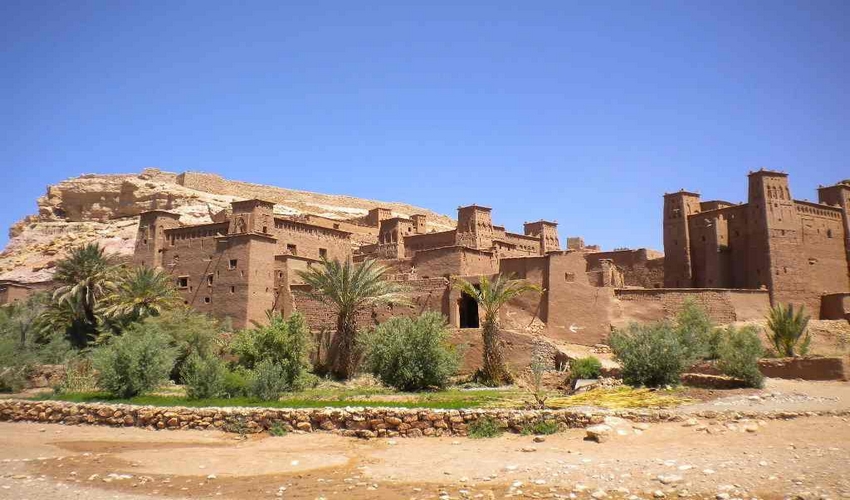 Aït Ben Haddou, a fortified village located at the bottom of a mountain of the High Atlas, in the province of Ouarzazate.  Its traditional dwellings and distinctive architecture contribute to its listing as a World Heritage Site by UNESCO.
The traditional dwellings found in Aït Ben Haddou are constructed of pisé (rammed earth), an ancient building method that provided excellent protection from the cold and heat. These dwellings are located inside high defensive walls, with angled towers and are an impressive and memorable sight. The village has few inhabitants and appears to be literally frozen in time. You will see earth ovens for baking fragrant bread, an ancient attic, or a rustic cowshed.  You can visit some of these historically significant homes that retain a feeling of warmth and have been meticulously maintained and walk through the entire village as you experience a lifestyle from a slower less hectic time.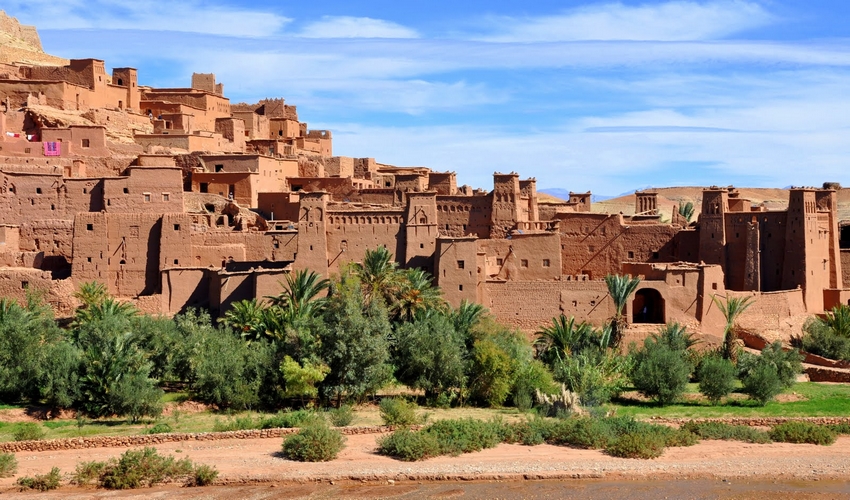 This ksar is a regrouping of houses around the Kasbah of Aït Ben Haddou and was surrounded by walls in order to form a fortress. The ksar was built by nomads who desired a sedentary and peaceful way of life. According to known historic documents, its building dates from the 11th century. Some architectural links can be found with other fortresses built by Almoravides during the same time in the Road of the Caravans, which confirms this.  On-site, you'll discover its fascinating history, narrated by a local guide.
This area is beautiful to view when the sun sets or rises and you will be charmed by its desolate impressive beauty and timeless atmosphere. The entire setting is so picturesque that you will almost feel that you are on the set of an exotic movie rather than visiting a real village. Parts of the great movie Lawrence of Arabia were shot here and other movies have chosen this mesmerizing locale to portray a simpler and more beautiful place and time.