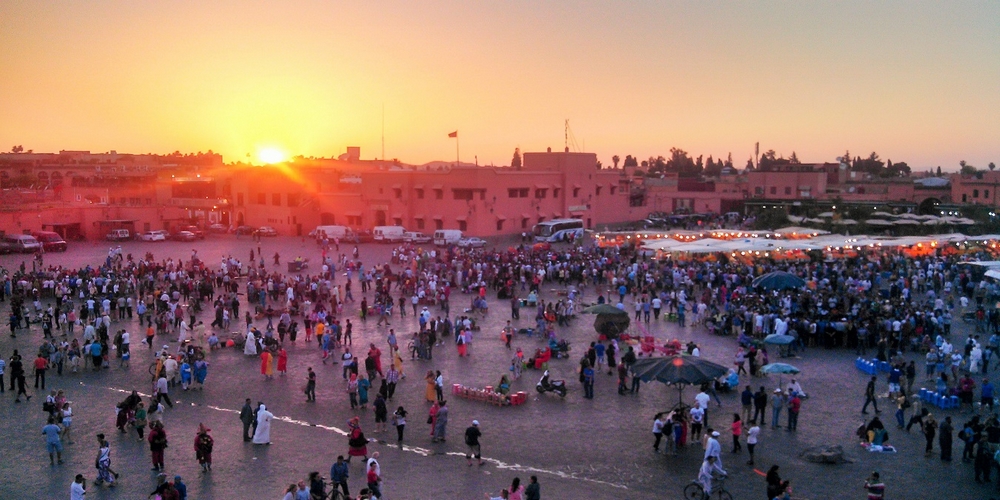 Marrakech is a medieval town, with its historical Palace and Saadian Tombs. You will be amazed at the architecture of the building that houses the Museum of Marrakech, with its wonderful works of art displayed inside. Take a double-decker bus tour around the city's major sites, like the Koutoubia Mosque that was built in the 12 century with its beautiful gardens. Unfortunately, there is no access to the mosque for non-Muslims.
Marrakech is a busy and vibrant place, full of color and sounds. It can be quite hectic so if you want to get away from it for a while taking an excursion from Marrakech to the wonderful Ouzoud Waterfall where you will meet plenty of local monkeys. While relaxing with a drink in the outdoor restaurant, it is a great place for photo opportunities or even to take a camel ride into the desert and spend a night camping out under the Moroccan stars. There are many smaller towns close by that will fill your days with some wonderful sights if you want to explore this charming country.  An afternoon in the Square of the Dead is delightful, with snake charmers, musicians and storytellers to entertain all the family. Before you leave Marrakech, fly over the city in a hot air balloon, it's a wonderful experience and very memorable with some fantastic views and plenty of photo opportunities.
Beaches Marrakech isn't a beach resort, but if you want to relax away from the bustling town then the harbor town of Essaouira is the nearest beach to Marrakech, where you can experience some great water sports like kite sailing and windsurfing along its broad sandy beach. It can be a little windy, but when the sun is at its hottest a little breeze is more than welcome, you can also try some horse riding along this very clean beach.
Shopping in Marrakech is an exciting experience, haggle with the locals in the large open-air Bazaars selling everything from Souvenirs to gorgeous handmade rugs, leather, and handcrafted gold jewelry. Take in the sights and sounds of this hectic bustling place, if you don't intend to buy don't haggle as the locals can become quite aggressive over it, but if you do haggle you'll be sure to pick up a bargain or two. If you prefer fixed price shopping with less hustle and bustle then you will find some very nice fixed price shops in the town.
Moroccan food is very tasty and quite diverse with Arabic, Mediterranean and African influences. Many spices are used in the traditional dishes; these can be found in many authentic restaurants, the most popular dish being pigeon pie. Many authentic dishes are cooked with couscous rice, spicy meat, and delicious vegetables. You will find the smaller more busy restaurants serving the locals tend to be the better places for traditional cuisine, but there are plenty of restaurants that sell international foods and fast food outlets selling baguettes filled with salad and meat can be found all around the towns. All of the hotels cater to the tourist market.