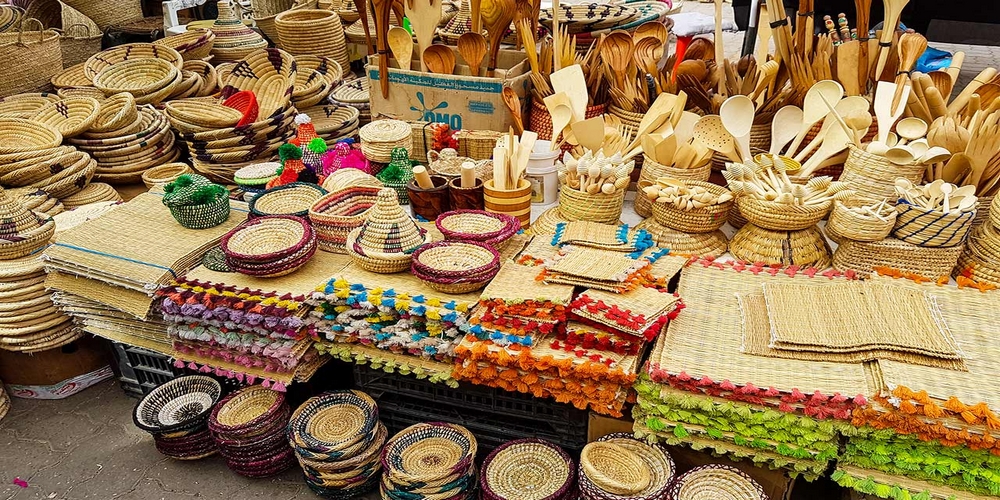 As soon as you visit a foreign country, you want to pick up small souvenirs to take back with you to your home country. Morocco is no exception. There are so many unique things to buy in Morocco! Just by walking down the medina streets, you will see thousands of beautiful art objects. There are Berber carpets, pottery shops, spice and perfume shops, and glittering gold teapots and so many other fun things to shop for! The difficult thing about shopping in Morocco is knowing how much to pay for each item, and when to bargain.
There are many carpet shops in Morocco, especially in the medinas. Each one will sit you down as they unfold carpet after carpet, telling the tale of how they came to be. You will watch in amazement with a cup of mint tea, as they show how intricately knotted they are. There is a rainbow of colors, patterns and sizes to choose from. There are modern style carpets and antique carpets. Each carpet has a story behind the rows of tiny knots that make up the whole design. Sometimes the shopkeepers will exaggerate the authenticity of the carpet, and ask for a price more than its worth. You shouldn't hesitate to bargain for a price that you are more willing to pay. You should examine the carpet beforehand to make sure that it is in good condition.
The pottery of Morocco is well-known. The usual colors are the traditional blue and white, in hand-painted designs. A fun excursion would be to go to the place where they are made and watch the painters carefully draw the patterns on the pottery. No two pieces are exactly the same. Sometimes there is silver metal twisted around it to decorate it a bit more, or other colors are added. You can find Moroccan pottery in any color, not just the blue and white. It would be fun to have little tajine pots for a cool salt and pepper holder. Before you buy one, make sure there are no smears or cracks and that the coloring is good.
One of the best places to visit during a tour of the medina is the spice shops. They have any spice you could dream of, along with perfumes, healing balms, and lotions. All the lotions are scented with flower oils, made in Morocco. The shops also feature saffron, the expensive spice that women handpick out of the centers of flowers. They have cures for every ailment, from snoring to aches and pains. The shop is full of intriguing smells and sights. Some of the spices are pretty expensive, because of the time is taken to harvest them, but still, do not be afraid to bargain boldly.
For a true memento of Morocco, you might want to bring back a silver teapot. The Moroccan hospitality always offers mint tea, and it might be fun to try and make that at home. You can walk into shops full of sparkling plates and pots. You can decorate your walls at home with the hand-engraved gold plates if they are too fancy to eat off of.
Morocco is a better shopping place than any mall or supermarket because it is all handmade and has its own character. The items are all right there and don't have to be advertised on any commercial, it advertises for itself. Come to enjoy the beauty of Morocco and all the treasures that it holds.