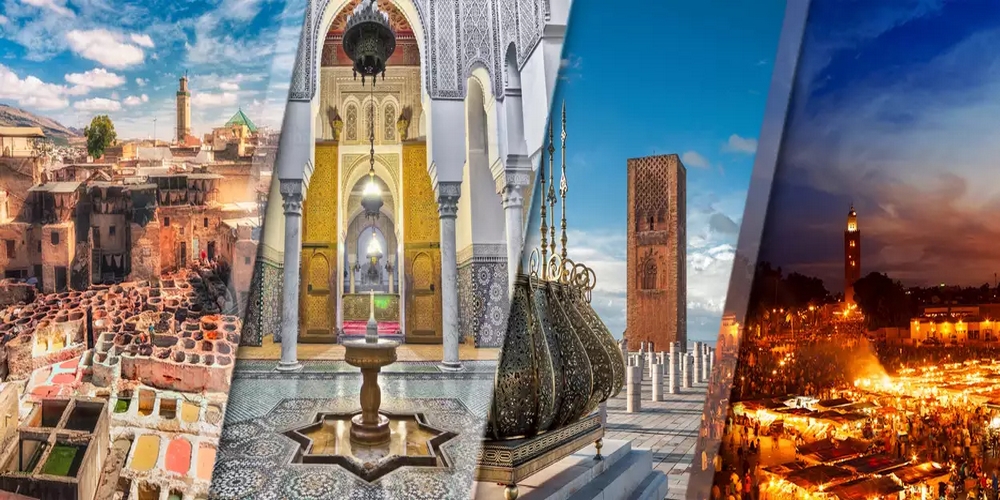 Morocco is a picturesque country throughout with a vivid colorful landscape; it has the welcoming warmth of its people and superb natural beauty. Each charming city and town in Morocco displays its own uniqueness and rich cultural elements. From the breath-taking Atlas Mountains to the yellow and gold desert sands of the crystallized Azure Sea, Morocco captivates visitors when traveling there. Morocco's historic cities are imperial cities that are extremely rich in history. The best times to travel to Morocco and visit these historic cities are in the spring and autumn as throughout spring and autumn, Morocco is mostly sunny and the temperatures are comfortable for all.
Marrakesh, Morocco
Marrakesh is one of the most beautiful Imperial cities in Morocco, located at the foot of the Atlas mountain region. Tourists who travel there is will be able to journey through the leftover traces that previous civilizations left. The star-shaped lattices, gleaming mosaics, aromatic gardens, and lovely sunken fountains are key things to look for when traveling to Marrakesh. Widely popular as a historic travel city, Marrakesh is famous for Djemaa el-Fna, Medina or Medina of Marrakesh, great palaces, ancient steam baths, and lovely gardens. Marrakesh is an oasis of tranquillity and beauty.
Fes, Morocco
Considered to be the religious heart of Morocco, exquisitely landscaped Fes is deemed an intellectual place with loads of heritage packed into its winding streets, cozy squares and its charming artisan workshops. When traveling throughout Fes, travelers can get the opportunities to see outstanding Islamic architecture from homes to ancient centuries-old mosques to old established universities. Fes also has quite a few open-air museums and shops that are perfect for buying traditional Fes goods like, ceramics, leather and even copper. Fes as a UNESCO world heritage site is the second largest historic city in Morocco and gives travelers the experiences of a small town with lots of character and charm.
Meknes, Morocco
The Imperial city of Meknes is unique for its distinct blend of different architectural styles. Meknes has a lot to offer travels with breath-taking monuments and it's captivating, yet well-preserved heritage. Meknes has nine gates for entry into the city as a port city within the city. The city of Meknes has fortified walls surrounding the city that's intricately designed with beautiful arabesque tile work and a variety of patterns. Meknes boasts both Islam and European styled architecture throughout the city. Once a thriving Roman settlement in the 4th century, Meknes has well-preserved ruins for travelers to observe from the ancient settlement. From the magnificent and dignified Dar EL Makhzen palace, various mosques to hammams and blooming gardens ornately decorating the streets of Meknes, it is the perfect destination for travelers to see the unity of different cultural elements.
These Imperial cities of Morocco are ideal for travelers because of their ancient monuments and the heritage of the illustrious dynasties that once ruled them. Traveling to the Imperial cities, travelers will be able to become acquainted with the culture, history, and overall heritage of the cities. Morocco's highly famous imperial cities have played a key role in the country's enamoring history. Marrakech, Fes, Meknes are all historically rich and significant to Morocco, but traveling to these different cities, travelers will be able to see each city for its own unique contributions to the enthralling history of Morocco.