The imperial city of Marrakech with its ten centuries of remarkable history is proud to claim the honor of naming the country of Morocco. People frequently hesitate before deciding which of its two well-deserved nicknames to use, but the "Red City" and "Southern Pearl" are both perfect choices for this world-famous and remarkable city. Warm and hospitable, Marrakech is home to many festivals centered on movies and the performing arts. The local atmosphere, amazing array of colors, and weather remind one that the desert is close by, yet beautiful landscapes, watered by the melting snows of the Atlas Mountains peaks, abound.
The world-renowned World Heritage Site, the "beating heart of the city" Jemaa-el-Fna Square is a lively and vibrant place that becomes even more so as evening approaches. One of the most famous permanent animation festivals of the world is held here. Have a seat on one of the panoramic terraces, enjoy a mint tea then stroll through the square in the midst of snake charmers, storytellers, or purveyors of goods who compete to attract each passer-by. For just a few dirhams, you can feast on delicious grilled meats and couscous, in the lively and colorful atmosphere of the square.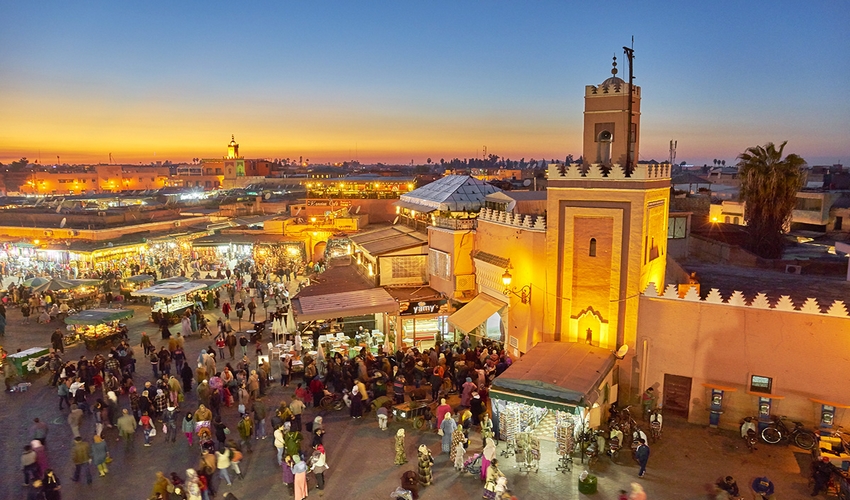 In the vibrant souks of the city enjoy the exciting atmosphere as you stroll through the mazes and stand to see beautiful fabrics, oriental slippers, and tinsmiths side by side in a labyrinth of alleyways that make for a thrilling and colorful experience.
There are many fantastic sights to see in Marrakech, the Ben Youssef Medersa
the Almoravides quobba, the Saadians tombs, the Chrob, or Chouf fountain, the Koutoubia Mosque, the Majorelle garden. In this superb architectural wonder of a city, you will discover beautiful mosques and bewitching palaces.
Between the dazzling sights of the city and the lovely gardens, strolling in the medina and shopping in the souks, do not forget to relax at a hammam. And make sure to use Marrakech as your point of departure for all of your journeys to the High Atlas, to the desert, or to enjoy the sun and sand on the Southern beaches of Agadir and Essaouira.  Marrakech is truly one of the most beautiful and fascinating cities in the entire world and one that once visited, you will return to in your heart for a lifetime.