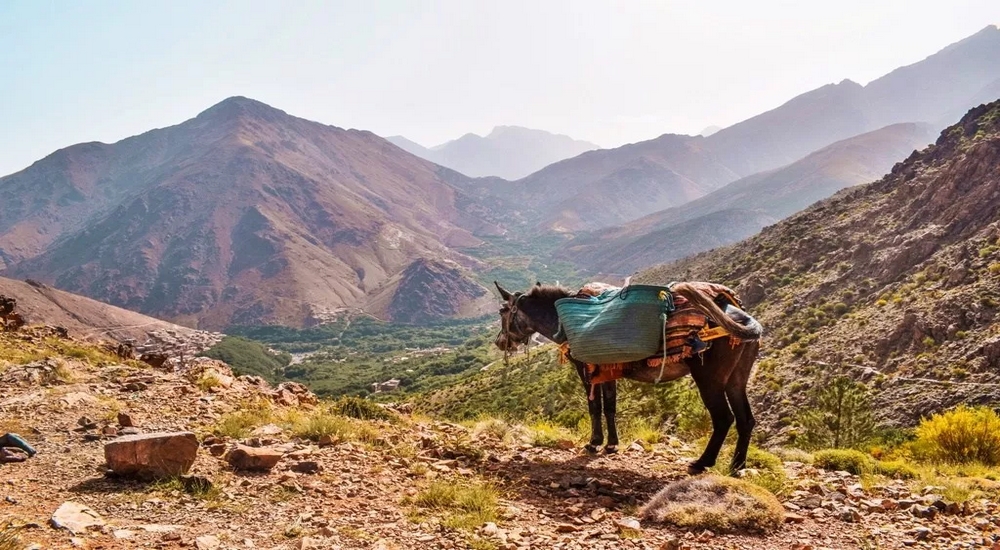 Morocco has more recently been "discovered" by outsiders: Westerners, the politically correct term, incorporates everyone coming in from the outside. Namely, though, these Westerners come from all countries of Western Europe, Canada, and the USA. Though maps are becoming more available, most "trails" are a simple mule, walking or erstwhile caravan routes. One of the best and most efficient ways to do some backcountry hiking of your own in Morocco is to hire a Morocco tour operator. This handy, in-country (mind you) tour operators know the best way to travel Morocco.
Though mules and guides can be hired to carry those burdensome loads, you should try to be in relatively good hiking/walking/trekking/tramping shape in order to hike or trek in the High Atlas Mountains in Morocco (the same goes for the Middle Atlas Mountains, too). The ups and downs of medium grade mountain hiking should be expected. Depending on the route you take, for example, you'll hover around 1700 to over 2000 meters. If you're planning on hiking Mount Toubkal, then your hike will take you well over 3000 and 4000 meters.
Most Morocco trekkers come to Mount Toubkal expecting altitude. Though it may be impossible for some to acclimate before coming to Morocco, it is not truly necessary to do so. If you experience signs of altitude sickness, you'll soon know it-aching head, troubled breathing, faintness, light-headedness and muscle cramping (give or take a few of these drawbacks). At any rate, by walking down one- or two hundred meters, all these pangs will disappear. Most Morocco trekkers are just fine (and acclimated) simply after spending one night in the Neltner Hut (base camp shelter) on Mount Toubkal.
Morocco's Atlas Mountains are generally touristy from July to September. With longer and sunnier hours, nice camping, no snow, little rainfall, and significantly lower temperatures than say Chefchaouen, Marrakech or Fez, the High Atlas offers refuge for thousands of day-, overnight-, and multi-day-hikers. However, it is wise to beware of flash flooding and thunderstorms, especially in the Ait Bouguemez Valley. Try to only hike down in gorges when you're certain there is no storm on the horizon. Moreover, trekking in Morocco requires quite a mental restraint against insanity while battling flies, knats, mosquitoes, dust, heat, sun and parched bodies.
If you choose to do some hiking or trekking in Morocco's High Atlas Mountains during the colder months, then it may be wise to start and end early. Dawn is late and dusk is early. This may require cold risings and cold-filled frosty nights. Most Morocco mountain guides, too, won't go above certain altitudes or want to peak summits during the winter months. Though there are several other options available, with some nice lower traverses, such as in the M'Goun, one should heed the weather and prepare for the worst and coldest conditions. If you expect to have mules carry your loads, make sure that it's not during the harvest or plough seasons. It may be near impossible to find anyone willing to donate his or her families only farming "machine."
If you plan on more than a day's hike anywhere in Morocco, it is wise to still pack only the essentials. Notwithstanding the fact that you might score a mule, you should only bring a sleeping bag, sleeping mat, rain garments, spare clothes, first aid kit, some snacks, water bottles, sweater, hiking poles, water filtration device, and hat. Usually, most Morocco mountain guides supply a canvas tent. Make sure to ask your Morocco tour operator before departing if you'll need either rent or buy or bring a tent. Once you've departed on your Morocco hike, you'll have no way to acquire any of these necessities. Your Morocco hike will be all the better the more you know before you go.
Morocco is opening up to an influx of tourists, visitors, hikers and trekkers alike. Contact your knowledgeable and agreeable-in country-Morocco tour operator for the best deals and needed preparations before you go at it in Morocco.
For more information about Morocco tours and information about Morocco travel, please Contact Us. We have quality Morocco travel tours that are updated every day by our wonderful staff.