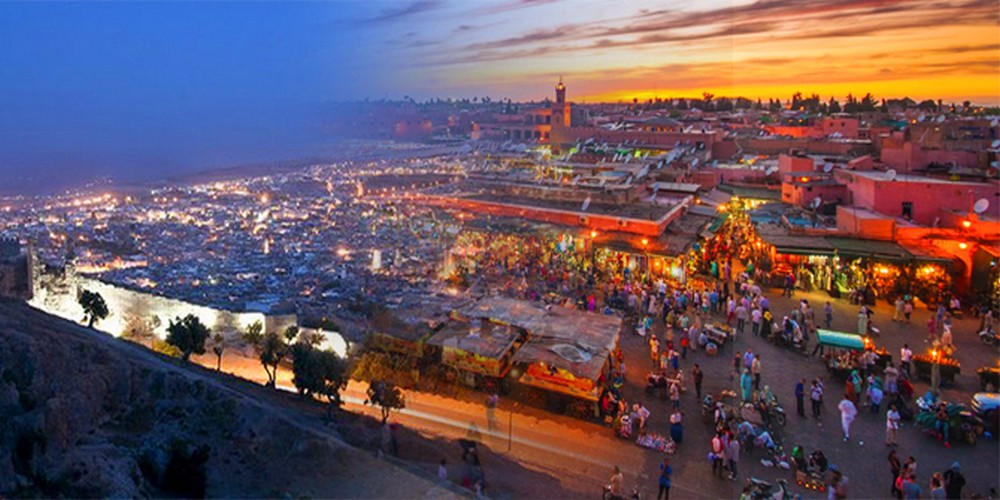 The top two most popular cities in Morocco are Fes and Marrakech. They are the most famous places to visit in Morocco, and everyone that comes to Morocco wants to take a tour of them. What makes them so popular? They are actually very different, with the main difference being the way they were influenced.
Fes is the second largest city in Morocco, but it is not as much of a tourist trap as some of the other cities. Fes has two parts, the new town, and the old town or medina. The medina is walled in city, with many narrow streets forming a labyrinth inside of it. There are many small shops on the sides of the main street packed with the shopkeeper's bright wares. Marrakech is a little smaller than Fes. Its medina runs the same way as the one in Fes, with souks and markets everywhere you go. At night, however, the city of Fes will start to shut down, and people will close up their shops to go home.
Marrakech comes alive at night, especially at the big square, Jemaa el-Fna. This square is full of performers and shops. There are snake charmers, singers, storytellers, fortune tellers, dried fruit shops and various food stalls. The Jemaa el-Fna attracts tons of people every night, both Moroccans and tourists. The only places in Fes that are still awake and doing business at night are the shops or restaurants in the new town. People sometimes will gather around the long paths of fountains and glittery lights to socialize. The medina is usually quite empty at that time.
Fes is one of the imperial cities of Morocco, being more influenced by Arab culture. Marrakech is more influenced by the Berber culture. So Fes is less touristy and makes a more authentic visit to Morocco. It has some beautiful gates and lovely things to see there. Marrakech, being tourist-friendly, does make it easier to get around as the complicated Fes might give you a hassle. This said some prices in Marrakech might be higher as they are designed specifically for tourists. If you enjoy people and just seeing many different things then Marrakech is for you. If you want to see true Morocco, then you would enjoy Fes a lot more.
Morocco holds many great places to go, all with its own experience and culture. The flashy city of  Marrakech brings the party into Morocco with its late-night bazaars and activities. There, you will continue to find new, exotic and exciting things to see and do during your stay. Although Marrakech is a fun place to go, it is not the place to shop. Fes, one of the truer cities in Morocco, will have less outrageous prices and have more authentic materials. This city holds all the gems of Morocco, such as the great mosque, medina, and memorials.
Morocco is a wonderful place to travel and it is sure that you will have a wonderful time.
Discover Moroccan culture with typiquetours, a full-service agency offering tailor-made and private tours all over Morocco. In contrast to mass tourism, we offer logistical support for organizing your trip to Morocco.